Benmore Botanic Garden
In a magnificent mountainside setting on the Cowal Peninsula lies Benmore, an enchanting Garden steeped in history and surrounded by dramatic scenery. Benmore's 120 acres boast over 300 species of rhododendron; Bhutanese and Chilean plantings and a spectacular avenue of Giant Redwoods.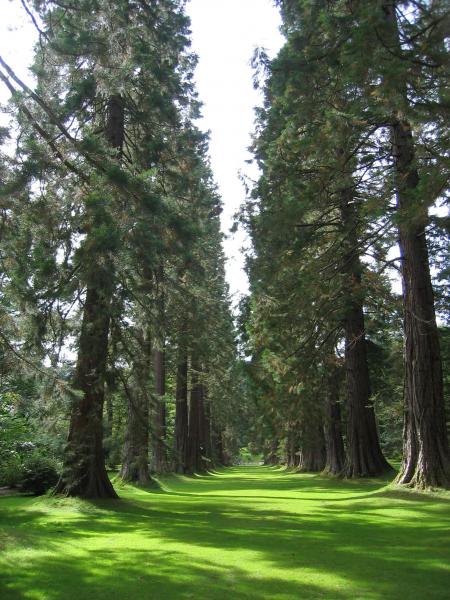 Benmore Botanic Garden in its majestic mountain setting is a vital link to disappearing wilderness.
Visitors enter the Garden through the great Redwood Avenue planted in 1863 by Piers Patrick, a wealthy American who had bought the estate the year before.
Another popular feature of the Garden is Puck's Hut which celebrates the memory of Isaac Bayley Balfour. He was Regius Keeper of the Royal Botanic Garden Edinburgh from 1888 to 1922 and it was he who first thought of creating a west coast botanic garden.
The wooden hut designed by Robert Lorimer and tiled in red cedar can be found at the head of the Formal Garden.
A much photographed feature is the bronze statue 'A boy with two dolphins' which dates back to 1875 and is a legacy of James Duncan, a Greenock sugar refiner, who took over the house in 1870.
Benmore's wealth of flowering trees and shrubs, including over 300 species of rhododendron and over a third of the world's winter hardy conifer species, ensures that there is something of interest all year round.
Contact Benmore Botanic Garden on +44 (0) 1369 706 261
Visit www.rbge.org.uk for further information
Opening times: Open daily 1 March to 31 October from 10am
Closing: 5pm March | 6pm April to September | 5pm October